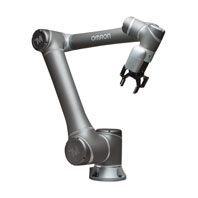 Collaborative robot for assembly, packaging, inspection and logistics
Designed to work with both humans and machines, this robot is the latest in a long line of innovations in automation technology for industrial applications.
Safe and transportable, with built-in vision, this robot allows for quick start-ups and rapid changeovers. Its intuitive software enables the robot to be easily trained to perform almost any task wherever you may need it, freeing your workforce from repetitive tasks and increasing your productivity.